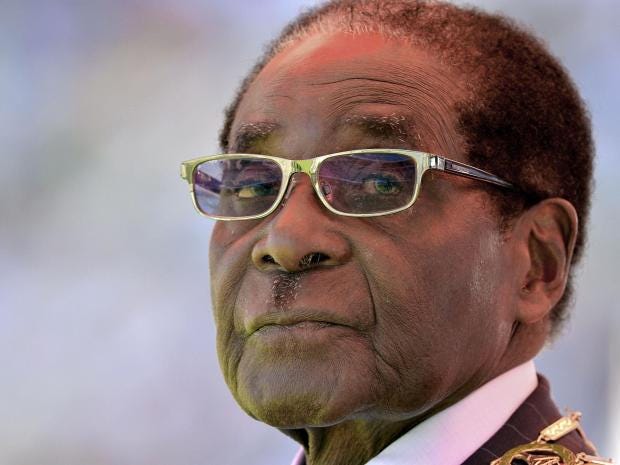 (AFP/Getty)
David Pilling
FT
When a man in green fatigues comes on state television and says, "We wish to make it clear that this is not a military takeover of government", you can be pretty sure of one thing: a military coup is in full swing. In Zimbabwe, in the early hours of Wednesday morning, that is precisely what happened. Yet this may not be a classic coup d'état. Africa is now a continent where old-fashioned military takeovers are seen as passé and countries like to present themselves as having at least a veneer of constitutional democracy. (Read more)
____________________________________________________________________________________________
Andrew Leber and Christopher Carothers
Foreign Affairs
Earlier this month, Crown Prince of Saudi Arabia Mohammad bin Salman (MbS) dramatically arrested 11 princes and dozens of other wealthy businessmen and high officials under the guise of fighting corruption, a move that has provoked a minor avalanche of speculation among foreign analysts. The arrests have nothing to do with corruption or everything to do with it; they are about consolidating power or a sign of power consolidated; they are the beginning of a new era of transparency and accountability or further evidence of unchecked power at the height of the Saudi government. (Read more)
____________________________________________________________________________________________
Julia Ioffe
The Atlantic
Just before the stroke of midnight on September 20, 2016, at the height of last year's presidential election, the WikiLeaks Twitter account sent a private direct message to Donald Trump Jr., the Republican nominee's oldest son and campaign surrogate. "A PAC run anti-Trump site putintrump.org is about to launch," WikiLeaks wrote. "The PAC is a recycled pro-Iraq war PAC. We have guessed the password. It is 'putintrump.' See 'About' for who is behind it. Any comments?" (The site, which has since become a joint project with Mother Jones, was founded by Rob Glaser, a tech entrepreneur, and was funded by Progress for USA Political Action Committee.)
The next morning, about 12 hours later, Trump Jr. responded to WikiLeaks. "Off the record I don't know who that is, but I'll ask around," he wrote on September 21, 2016. "Thanks." (Read more)
____________________________________________________________________________________________
BBC News
Lebanese Prime Minister Saad Hariri has arrived in France for talks on a crisis sparked by his resignation.
He quit unexpectedly two weeks ago during a visit to Saudi Arabia, but his resignation has not been accepted.
Mr Hariri denied being held in Riyadh against his will, amid speculation the Saudis had forced him to quit as part of a regional power struggle with Iran.
Lebanon's president said on Saturday that Mr Hariri had told him he would be back in the country by Wednesday.
President Michel Aoun said on Twitter that Mr Hariri had told him by telephone that he would return for independence day celebrations. (Read more)
____________________________________________________________________________________________
Brian Katulis and Yoram Schweitzer
Foreign Policy
Israel's reaction to U.S. President Donald Trump's Iran speech last month was best summed up by a former senior official we recently met in Tel Aviv: "It sounds very nice, and I like it very much, but what's next?"
What we heard last month in Israel on Iran was less focused on the fate of the nuclear deal and more concerned about glaring gaps in U.S. strategy to deter Iran's destabilizing actions and support for terrorist groups in the wider Middle East.
If and how the Trump administration addresses these gaps in its regional strategy will have implications for America's security and its allies for years to come — and what we heard in Israel is a growing worry that Trump lacks any operable plan at all on Iran. (Read more)