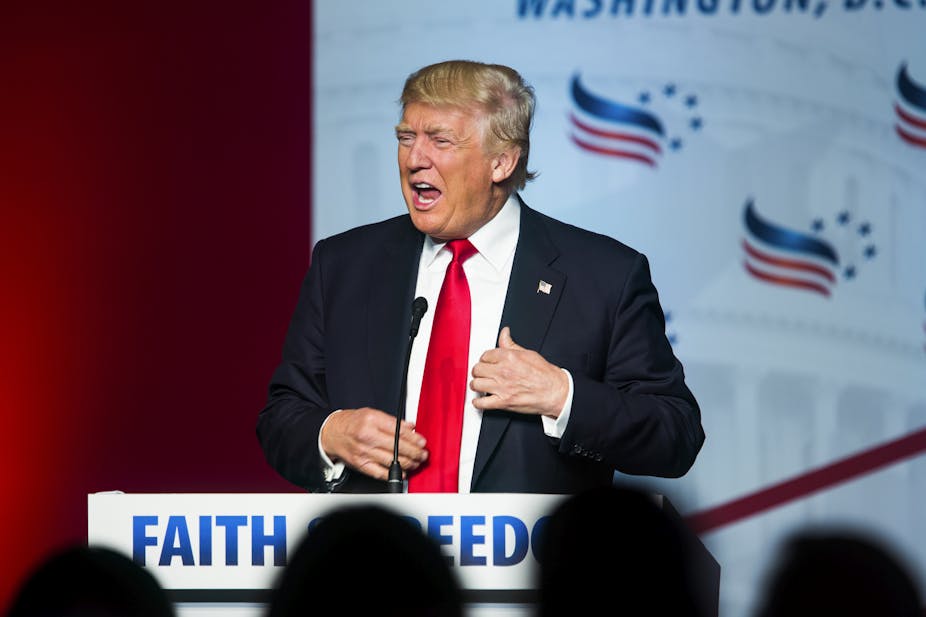 (Photo: APA/Jim Lo Scalzo)
Randall J. Stephens
The Conversation
More than 81% of the US's protestant evangelicals voted for Donald Trump in the 2016 election. A year and a half into his presidency, they seem as dedicated to him as ever – and just as ready to make excuses for his decidedly un-Christian misdeeds.
Many Christian rightists, among them "family values" foghorn James Dobson, consider Trump a "baby Christian". His lewd and predatory comments about women are simply the mark of a very imperfect man. Any of his actions, no matter how debased or inhumane, are dismissed or approved by the faithful.
On June 14 the attorney general, Jeff Sessions, used scripture to back up Trump's cruel policies on refugees, which are currently tearing families apart along the southern border. Now, through the alchemy of political tribalism, the former casino owner, who once starred in a softcore porn film and who confessed on the radio to multiple affairs, is a Man of God who speaks his mind with confidence, however deep his ignorance. (Read more)
____________________________________________________________________________________________
Adam Sage, Bel Trew and Duncan Geddes
The Times
France agreed to take migrants left stranded at sea by Italy the day after President Macron a vision of "fortress Europe" proposed by Rome.
Italy's interior minister, Matteo Salvini, refused to accept 629 migrants picked up in the Mediterranean by the Aquarius, a charity rescue vessel, and barred two Dutch migrant ships from docking in Italy today.
Hours later it was announced that France would share with Spain some of the migrants rescued by the Aquarius, who are due to arrive in Valencia tomorrow.
President Macron sought to woo Italy's new populist government by backing moves to stop economic migrants crossing the Mediterranean and deport those who do. He promised of a Europe-wide crackdown on the illegal immigrants he said formed the vast majority of those arriving from Africa. (Read more)
____________________________________________________________________________________________
Tom McCarthy
The Guardian
Paul Manafort, formerly Donald Trump's campaign chairman, was taken into custody on Friday after a federal judge determined he had violated the terms of his bail as he awaits trial on multiple federal felony charges.
Manafort, 69, thus became the second former Trump aide to go to jail related to charges brought by the special counsel Robert Mueller, who is investigating Russian election interference and links between Trump aides and Moscow.
Three other former aides, including the former national security adviser Michael Flynn, have been indicted and are cooperating with Mueller's team of investigators. Former foreign policy adviser George Papadopoulous was briefly held in custody. The charges against Manafort, which he denies, do not relate to his work on the Trump campaign or Russian attempts to influence the 2016 election. (Read more)
____________________________________________________________________________________________