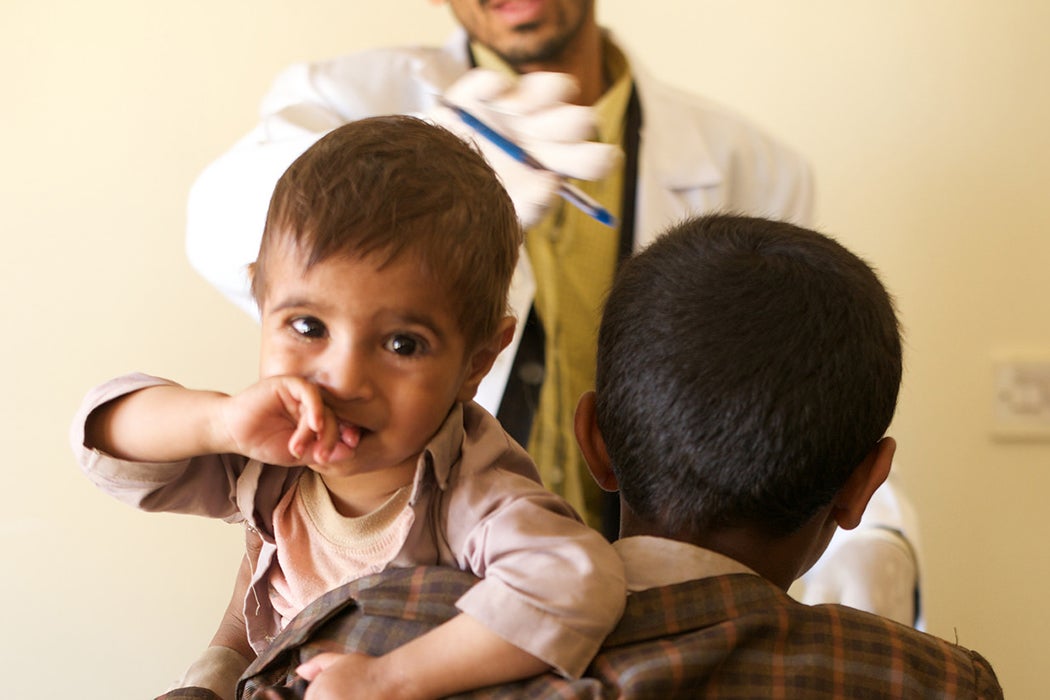 (Image: Flickr/Julien Harneis)
Eric Schewe
JSTOR Daily
Children are starving to death in Yemen. The NGO Save the Children has estimated that in 2017, more than 50,000 children died from cholera and famine caused by Saudi Arabia's bombing campaign and naval blockade against the country. A further 8 million Yemenis are near starvation.
What Saudi Arabia is Doing in Yemen
Since 2011, Saudi Arabia has sought to bolster its power and authority in the Middle East, and in the Arabian Peninsula in particular. In the chaotic aftermath of the "Arab Spring" protests, it has sought to support its allies in many different regional conflicts. In 2015, the Houthi Shiʿi Islamist movement occupied Yemen's capital Sanaʿa and deposed Saudi-supported President Abdrabbuh Mansur Hadi. Shortly thereafter, Saudi Arabia launched "Operation Decisive Storm" in a coalition with eight regional allies including the United Arab Emirates, invading the country with ground troops to fight the Houthis, in addition to the air raids and blockade. It has justified this choice to the world by claiming it is countering Iranian support for the Houthi movement. (Read more)
____________________________________________________________________________________________
Alyssa Ayres
CFR
One year ago, President Donald J. Trump outlined a new South Asia strategy in a speech at Fort Myer. In his speech, the president did three things: one, he shifted the U.S. troop presence in Afghanistan from a timetable approach to a conditions-based approach; two, he publicly upbraided Pakistan for ostensibly being a U.S. ally while simultaneously providing safe haven to terrorists, the Afghan Taliban, and others; and three, he called upon India to do more in Afghanistan as an economic assistance and development partner.
Here's what I wrote about this speech at the time: "The Not-So-New 'New' South Asia Strategy." The upshot: the supposedly "new" approach drew on elements of the Barack Obama administration's strategy that were already in place, and marked in many ways a continuation of past policies. (The president's sharp remarks about Pakistan—"we can no longer be silent"—did mark a departure in tone, and certainly elevated the level of public U.S. dissatisfaction. Trump's New Year's Day tweet about Pakistan's "lies and deceit" further abandoned all diplomatic niceties.) (Read more)
____________________________________________________________________________________________
Marc Lynch
Foreign Affairs
In 2011, millions of citizens across the Arab world took to the streets. Popular uprisings from Tunis to Cairo promised to topple autocracies and usher in democratic reforms. For a moment, it looked as if the old Middle Eastern order was coming to an end and a new and better one was taking its place. But things quickly fell apart. Some states collapsed under the pressure and devolved into civil war; others found ways to muddle through and regain control over their societies. Seven years later, those early hopes for a fundamental, positive shift in Middle Eastern politics appear to have been profoundly misplaced.
But the upheaval did in fact create a new Arab order—just not the one most people expected. Although the Arab uprisings did not result in successful new democracies, they did reshape regional relations. The traditional great powers—Egypt, Iraq, and Syria—are now barely functional states. Wealthy and repressive Gulf countries—Qatar, Saudi Arabia, and the United Arab Emirates—are thriving. The proliferation of failed and weakened states has created new opportunities for competition and intervention, favoring new actors and new capabilities. Regional dynamics are no longer determined by formal alliances and conventional conflicts between major states. Instead, power operates through influence peddling and proxy warfare. (Read more)
____________________________________________________________________________________________
Isabella Kwai and Charlotte Graham-McLay
New York Times
The back-room bloodletting that has come to typify Australia's turbulent politics claimed one conservative prime minister and anointed another on Friday, in the sixth change to the country's leadership in 11 years.
By the time the new prime minister, Scott Morrison, formerly the country's treasurer, emerged from the room where Liberal Party lawmakers elected him on Friday, his colleagues had ousted his predecessor, shut down the lower house of Parliament and blown up their own signature piece of energy legislation — all in the span of a week.
Members of the governing party forced out Prime Minister Malcolm Turnbull — the fourth time an Australian leader has been undone by his own party since 2010 — leading many citizens to complain that the country's officials were more interested in "Game of Thrones"-style political machinations than actual governance. (Read more)
____________________________________________________________________________________________
Aaron Magid
Foreign Policy
Jordan's heir apparent, Crown Prince Hussein bin Abdullah, took to the stage last month to deliver a somewhat surprising economic message. Speaking to students just slightly younger than himself, the 24-year-old graduate of Georgetown University hammered home the need for independence. In an era of innovation and dynamic global change, Hussein declared, Jordanians can no longer depend on outsiders to provide for their livelihoods: "We live," he said, "in an era of self-reliance."
His words echoed those of the country's former prime minister Hani al-Mulki, who gave the following warning last October as the country headed toward a financial crisis: "We have to rely on ourselves," he explained, "as donor countries have made it clear that they cannot help us if we do not take measures to help ourselves." Mulki's solution included a new tax law, endorsed by the Jordanian Cabinet on May 21 and sent on to the Parliament for approval, that would have lowered the level of earnings at which income tax kicks in from $34,000 to $22,500 a family. At that rate, 90 percent of Jordanians would still have been exempt from paying. Regardless, Jordanians were outraged. Soon, protests erupted against the unpopular law, ending with the prime minister's resignation. (Read more)