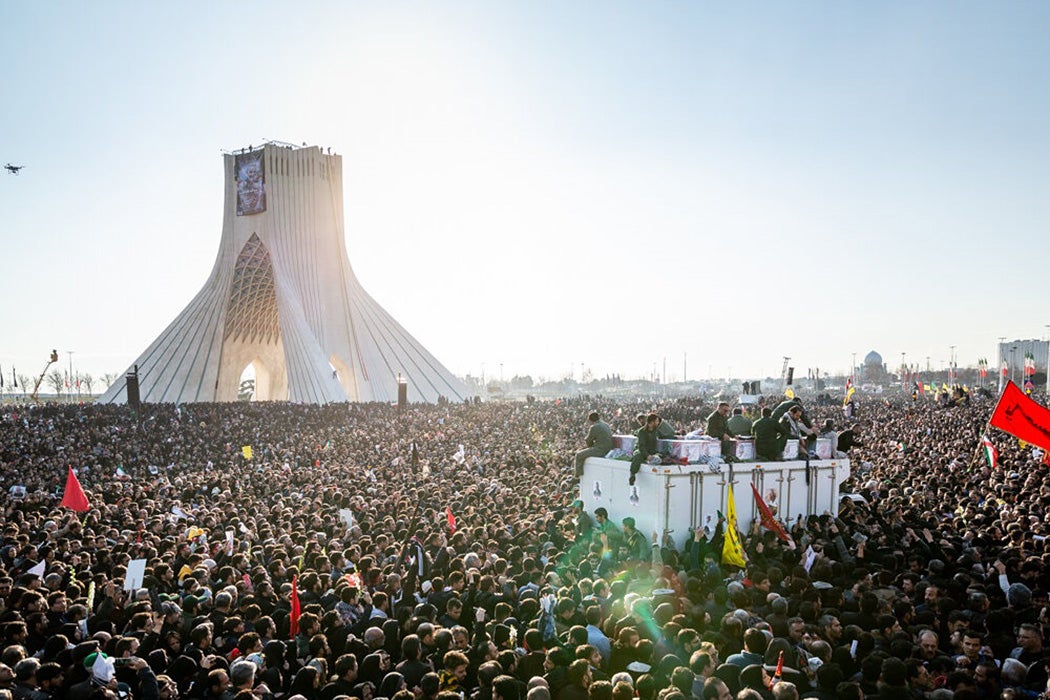 (Image: Wikimedia Commons)
Eric Schewe
JSTOR Daily
President Trump's January 3, 2020, decision to order a drone assassination of Iranian Major General Qasem Soleimani in Iraq has backfired in spectacular fashion. Less than two months ago, the streets of nearly every major city in Iran were choked with more than 200,000 anti-regime protestors. They chanted slogans against recent increases in gas prices and income inequality. They set fire to hundreds of banks and other businesses.
Trump's abrupt withdrawal, two years ago, from the 2015 Joint Comprehensive Plan of Action on Iran's nuclear program has had a strong impact on Iran's economy. Severe U.S. sanctions have suppressed Iranian oil exports and led to spiraling inflation. The sanctions enact a collective punishment of the Iranian people for the actions of their political leaders, meeting the demands of Israeli prime minister Benjamin Netanyahu and the American right wing. (Read more)
____________________________________________________________________________________________
Regina Smyth
The Conversation
1. What just happened?
Russian President Vladimir Putin, who has been in power for 20 years and faces term limits in 2024, has begun his effort to consolidate control and maintain his hold on power after the next elections. The cabinet and prime minister's resignations are part of that effort.
Putin wants his majority in the parliament – the State Duma – to pass constitutional amendments that will allow him to remain in political control.
This move is not unexpected, at least among Kremlin watchers and scholars like me who have studied Russian elections over 30 years. Putin signaled the change in his annual press conference in December, where he spoke about the potential for constitutional reforms.
On Jan. 15, Putin gave his annual state of the nation address and unveiled "serious changes to the political system." In response to the proposed constitutional amendments, which Putin is promoting as "reforms," Prime Minister Medvedev and his government resigned. (Read more)
____________________________________________________________________________________________
Peter Hunt
The Spectator
The 'third way' of being a senior royal – representing the Queen one day, earning serious money the next, was always untenable. When Harry and Meghan first made public their desire to change the status quo they described it as a 'progressive new role'. Critics, better versed in the workings of an ancient institution than some of those advising the couple, dismissed it as a 'having your cake and eat it' approach.
Given that the idea was never a runner, it's striking that it has taken those who are still active royals more than a week to accept the inevitable. They clearly didn't want this outcome but now they have it. They want to keep Harry and Meghan on-side. This is evident in the warmth of the Queen's statement when she talked of her pride at how Meghan had 'so quickly become one of the family'. Such a sentiment may prompt a wry smile on the part of the duchess. Only last year she complained, in a clear reference to the family she'd just married into, that not many people had asked her if she was okay. (Read more)
____________________________________________________________________________________________
David Edgerton
New York Times
The United Kingdom may be finally coming to an end.
On Thursday, Parliament passed the withdrawal agreement on which Prime Minister Boris Johnson successfully campaigned in last month's general election. By the end of the month, it will be signed into law. The United Kingdom will leave the European Union on Jan. 31.
For decades, membership in the European Union helped glue together a fragmenting United Kingdom; now Brexit is tearing it apart. The short-lived fantasy of the "British nation," too, may finally meet its end.
Mr. Johnson's plan is likely to lead to a border between Northern Ireland and Britain for the first time in modern history. The policy — designed to allow Britain to radically break with Europe while Northern Ireland remains aligned with the rest of the bloc, including the Republic of Ireland — is an astonishing betrayal of the Ulster unionists, whose politics is predicated on the sanctity of the United Kingdom. And drawing Northern Ireland into the same regulatory system as its southern neighbor poses a remarkable opportunity for the nationalists. A once-more united Ireland is firmly in view. (Read more)
____________________________________________________________________________________________
Ria Kapoor
History Workshop
In the last few months, Indian law has been amended to allow for a fast-track to citizenship for any refugees belonging to Hindu, Sikh, Buddhist, Jain, Parsi or Christian communities from Afghanistan, Bangladesh or Pakistan. The introduction of a religious element in laws of belonging is novel. It was resisted in the immediate aftermath of the 1947 Partition, even as the flows of refugee-citizens to and from India and Pakistan obviously corresponded to religion. There have also been recent moves to 'confirm' Indian citizenship registers, enacted in only one state, Assam, so far. The use of a date associated with the 1971 refugee crisis as the cut-off to confirm legitimate presence in India brings together the historic category of the refugee with notions of citizenship. It would seem that the refugee is once again being used to determine the Indian citizen with these recent happenings. (Read more)