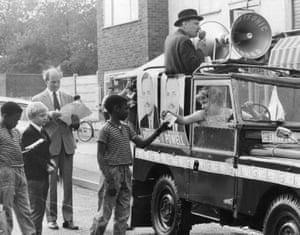 (Image: Leonard Burt/Getty Images)
David Edgerton
Guardian
The question of empire has become central to discussions of Britain's national past. Some see residual imperialism as the prime element in a deficient, delusional, racist culture. Others think emphasising the dark underside of empire is an attempt to erase British history. The problem is that although long historical tradition sanctions criticism of imperialism, national history has proved far more resistant.
Talk of empire is now omnipresent, but it was previously written out of history. In the 1940s the unashamed imperialist Winston Churchill didn't offer an imperial history of the second world war, or even a national one, but an Anglo-American, cold-war version of events in his six-volume work, The Second World War. Subsequently, what's striking about postwar historiography is the lack of imperialist histories and the absence of condemnation for nationalist and anti-imperial forces. At most there were sotto voce claims that the British empire should have done a deal with Adolf Hitler in 1940 to keep itself alive. (Read more)
____________________________________________________________________________________________
Keisha N. Blain
Roar
On May 25, 2020, the Minneapolis police murder of George Floyd triggered a landslide of popular unrest and mass protests against racialized police violence and structural racism in the United States and across the world. For many, the uprising — compounded by an uncontrolled viral pandemic and a staggering economic crisis — is unlike any period in living US memory.
During these events, mainstream media and politicians have paid almost exclusive attention to ideas and images of Black men — whether as victims of police violence or as protesters against it. Yet Black women, who are no less subject to structural racism and violence, have been at the forefront of the multi-racial Black Lives Matter Movement for years. (Read more)
____________________________________________________________________________________________
Daniel Benaim
The Century Foundation
The time has come for a course correction in U.S.–Saudi relations. Both countries' foreign policies are evolving amid domestic turbulence, in ways that have already strained the partnership—and set the stage for deeper changes to come. The United States is less dependent on Gulf oil imports than at any point in recent memory, and exhausted from recent wars in the region. Even before the COVID-19 pandemic, many experts wondered if the United States could afford to "do less" in the region, and with Saudi Arabia in particular. As Saudi Arabia undertakes seismic societal changes and prepares for a formal leadership transition, the kingdom has departed from decades of quiet diplomacy to adopt an assertive, sometimes confrontational approach beyond its borders.
Against this backdrop, the policies of both Saudi crown prince Mohammed bin Salman (known in policy circles as MBS) and U.S. president Donald Trump have crystallized, for many in both major U.S. political parties, the need for large-scale changes. Prince Mohammed has sought to transform Saudi Arabia from a status quo power into a disruptive force in the region. Under the mantle of generational change, he attempted to raze or remake several pillars of the country's domestic and foreign policies, from reining in the religious police to replacing consensus-based decision-making within the royal family with something approaching one-man rule. From the Saudi-led bombing of Yemen to the murder of journalist Jamal Khashoggi, Saudi Arabia has pursued a pattern of ill-considered choices that have undermined U.S. interests and values, rightly drawing bipartisan condemnation. (Read more)
____________________________________________________________________________________________
Juliette Desplat
National Archives
80 years ago, on 18 June 1940, powerful words were pronounced on the BBC, broadcast on both sides of the Channel: 'the flame of French resistance must not and will not be extinguished'.
These words came from a rather unknown French General who had just arrived in London and was determined to fight on after the fall of France: Charles de Gaulle.
An 'indissoluble union'
On 16 June 1940, 48 hours after the Germans entered Paris, officials on both sides on the Channel came up with a rather extraordinary proposal: an 'indissoluble union' between France and Britain. A declaration was drafted by the head of the Inter-Allied Commission, Jean Monnet, with his deputy René Pleven, French Undersecretary for National Defence and War Charles de Gaulle, Churchill's personal assistant Desmond Morton, and Chief Diplomatic Adviser Robert Vansittart. (Read more)
____________________________________________________________________________________________
Promod Tandan
Conversation
A tense military standoff between China and India over a disputed border area in the Himalayas has put much of the region on edge. Not least in Nepal, which has its own ongoing land dispute with India and where concern is mounting that the India-China power play could damage its territorial integrity.
On June 15, after weeks of escalating tensions, violent clashes broke out between Indian and Chinese soldiers along the border in the Galwan Valley of the Ladakh region, claimed by both India and China. Dozens of Indian soldiers were reportedly killed. India and China have been steadily increasing the number of their troops on either side of the line of actual control, which has separated Chinese Tibet from Indian Ladakh since the 1962 Sino-Indian war. (Read more)